Louise Vanderbilt's Bedroom and Boudoir, Vanderbilt Mansion (1898)*
Artist/Designer: Charles Follen McKim, William Rutherford Meade and Stanford White, Ogden Codman
Project Location: New York, United States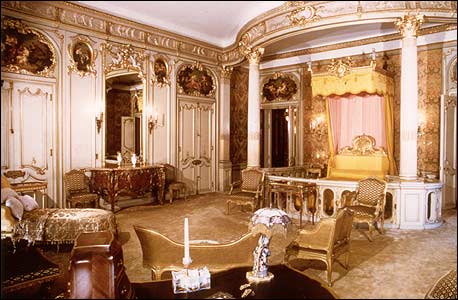 Style/Period(s):
Neoclassical, Revival Styles, Gilded Age
Primary Material(s):
Textile, Wood, Paint
Function(s):
Residential Structure
Related Website(s):

Significant Date(s):
19th Century, 1898
Additional Information:
Project Description:
This bedroom with adjoining boudoir, a reproduction of a Queen's bedroom from the Louis XV period, is located in the Hyde Park, New York mansion of Frederick and Louise Vanderbilt. Completed in 1898, the mansion's interiors exude the richness and excess associated with the wealthy robber barons of America's gilded age (a time of tremendous, untaxed, financial gain). Made specifically for Louise, the room's abundant use of French silk, gilding, white walls, carpeting, and pale textiles imparts a distinctly rococo flair punctuated with the unbridled curvilinear forms associated with the female body. Louis XV's bedroom was a moody space comprised of richly-hued burgundy textiles and dark woods, the lightness of the queen's room and darkness of the king's room underscoring a cerebral difference in men and women. Interestingly, while Louise's bedroom expressed a new chapter in American history, she selected a style traditionally used by the French aristocracy to express their wealth.



Publications/Texts in Print:
Albee, Peggy & National Park Service. Vanderbilt Mansion: A Gilded-Age Country Place. CreateSpace Independent Publishing Platform, 2013.

Craven, Wayne. Gilded Mansions: Grand Architecture and High Society. New York: W.W. Norton & Co., 2009.

Cheek, Richard & Charlotte Ofca School. Vanderbilt Mansion. Fort Church Pub.; 1st edition, 1988.



Building Address:
Vanderbilt Mansion National Historic Site
119 Vanderbilt Park Rd, Hyde Park, NY 12538
The United States

Significant Staff/Designers:
Vanderbilt mansion was designed by the architectural firm McKim, Mead & White.
The second-floor rooms, comprising Mrs. Vanderbilt's suite of Bedroom, Boudoir and Bathroom were designed by Ogden Codman.

Significant Dates:
1895-1938- Home to the Vanderbilts
1940- Became a National Historic Landmark

Tags:
Vanderbilt Mansion, National Historic Site, textiles, rococo, Beaux-Arts, gilded age, American Renaissance, neoclassical, Vanderbilt, Ogden Codman, Mckim, Meade, and White
Viewers should treat all images as copyrighted and refer to each image's links for copyright information.