Fluff Bakery (2004)
Artist/Designer: LTL Architects
Project Location: New York, United States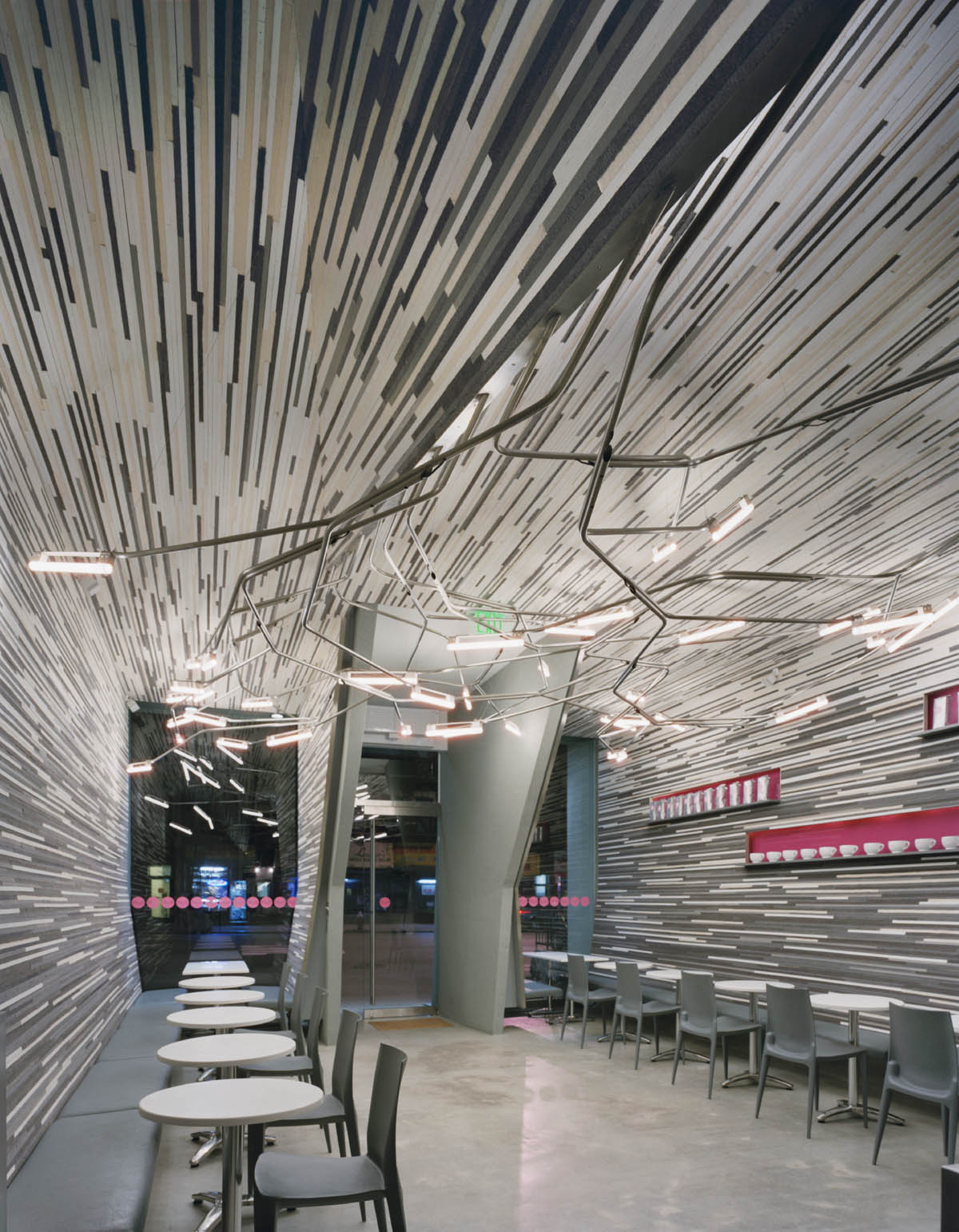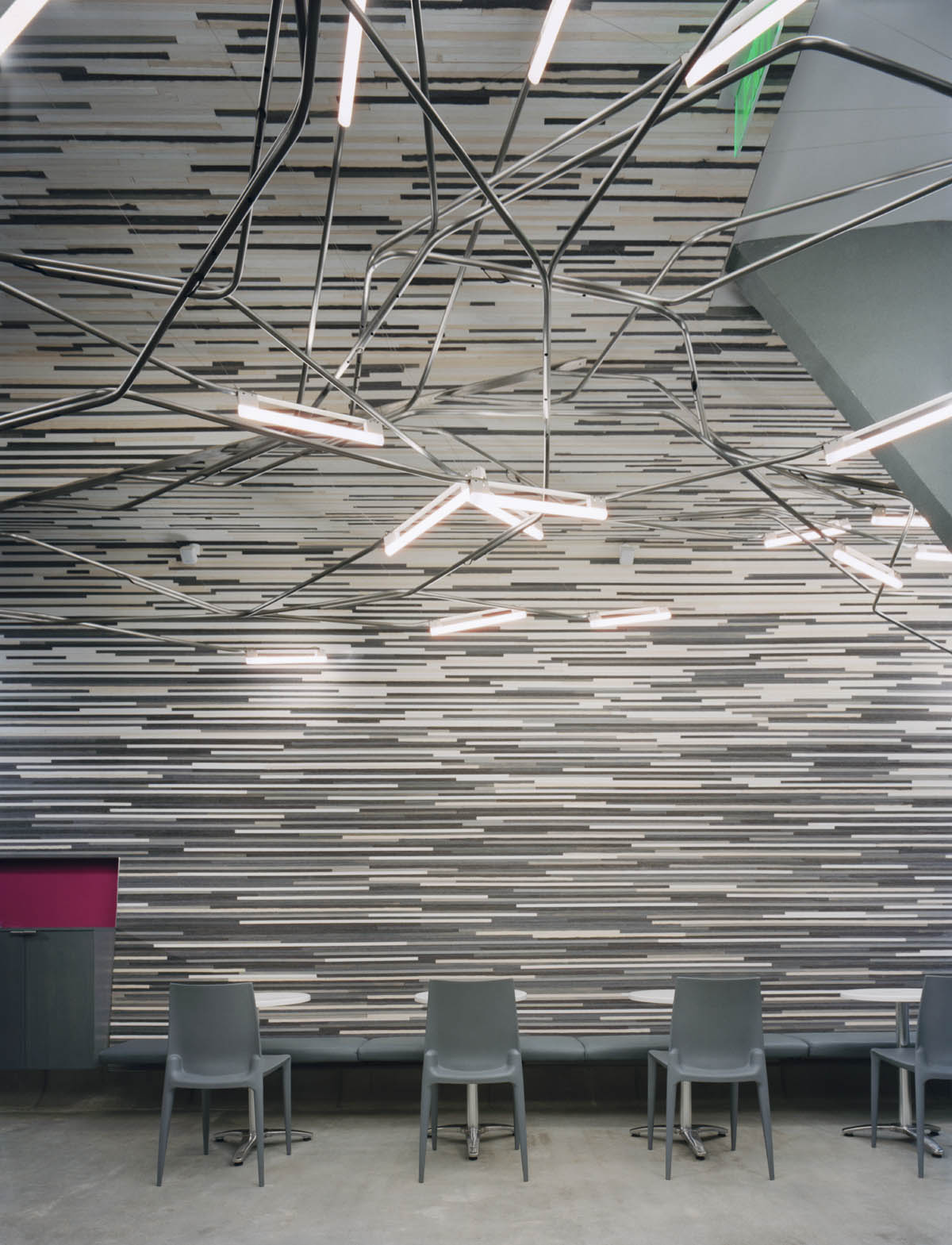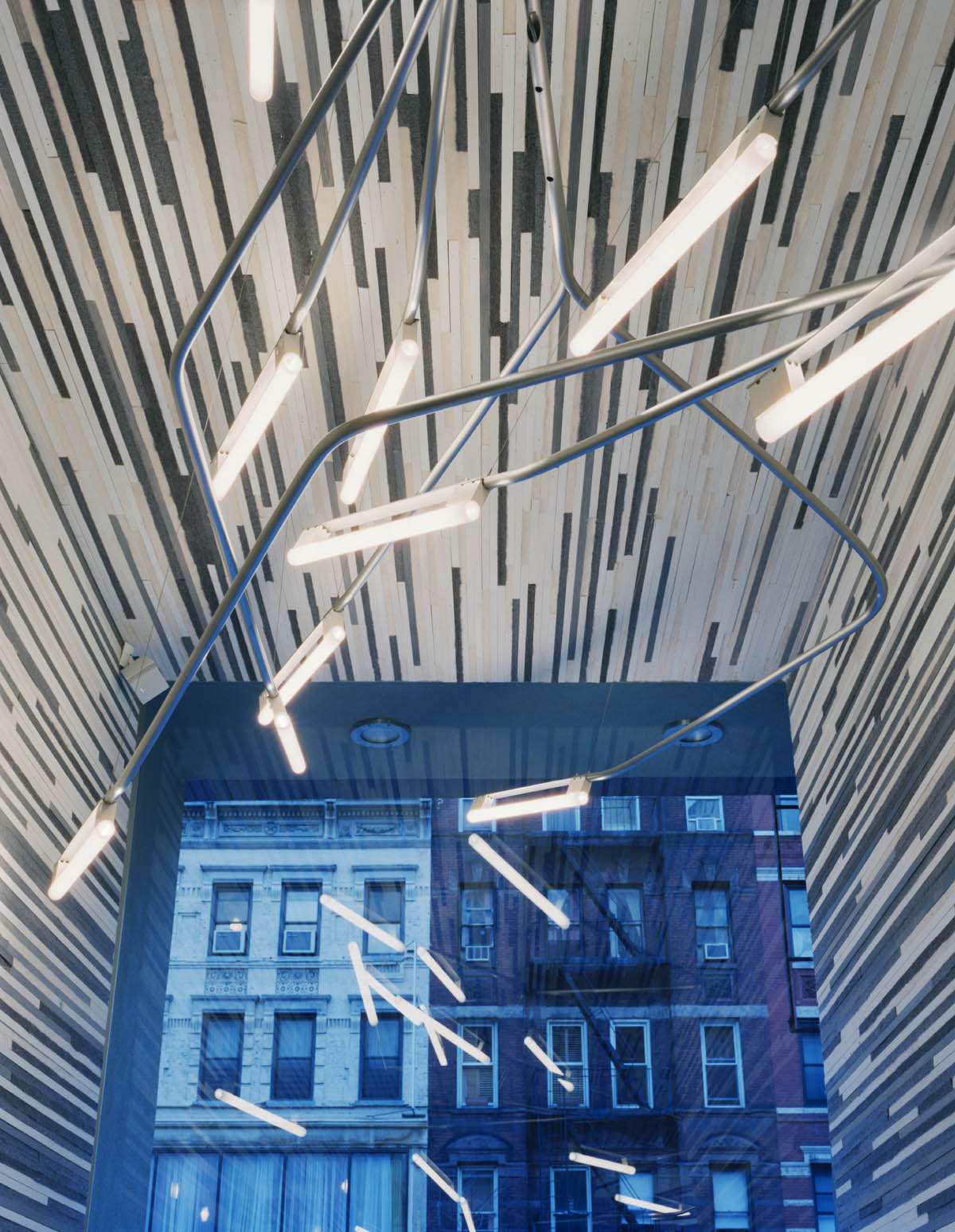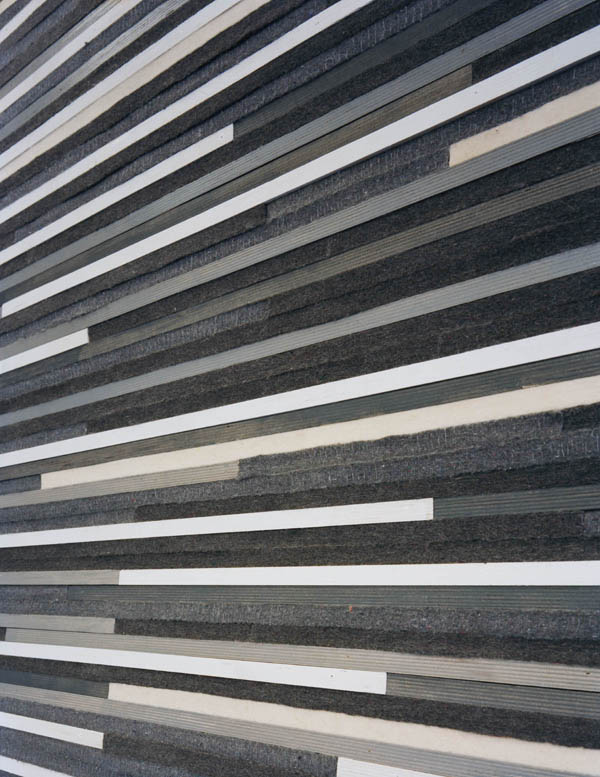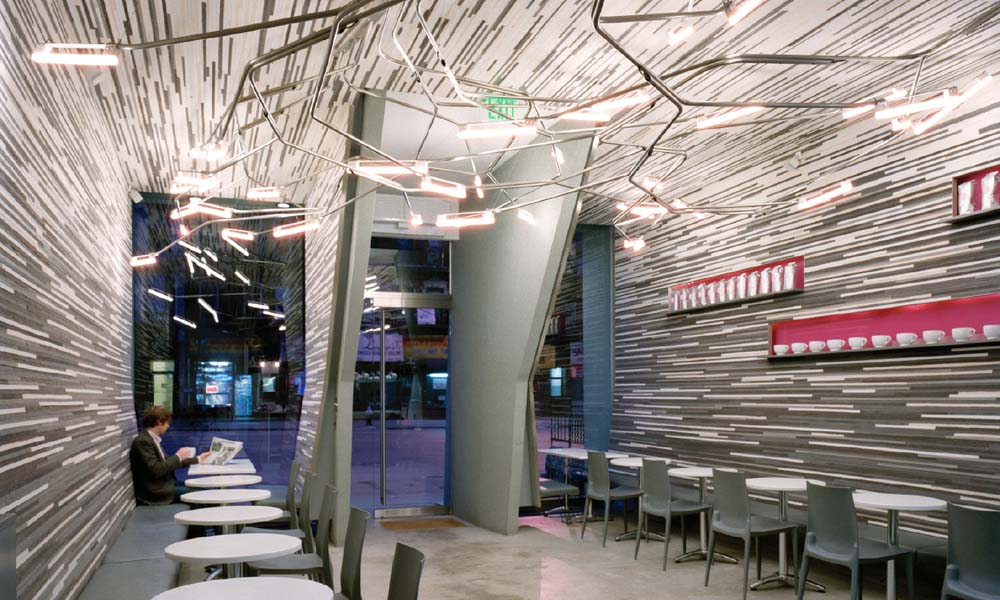 Style/Period(s):
Contemporary
Primary Material(s):
Textile
Function(s):
Retail Store
Related Website(s):

Significant Date(s):
21st Century
Additional Information:
FLUFF BAKERY by Lewis.Tsurumaki.Lewis Architects

The design of Fluff Bakery is a combination of a highly efficient plan, and an excessively horizontal wrapper that defines the main sitting area. The wrapper surface is made from layers of common materials. The walls and the ceiling of this 800 square foot space are composed of 18,500 linear feet of 3/4" x 3/4" strips of felt and stained plywood, each individually positioned and anchored into place. The mixture of grey, black and white materials is adjusted to produce a darker area at the seating areas shifting to a lighter combination at the ceiling. The surface of strips effects a horizontal vertigo, working as a visual attractor to the street through the glass storefront.

The ceiling light was designed as a custom horizontal chandelier, composed of 42 dimmable incandescent lights connected to a series of branching stainless steel metal armatures. The field of lights, which appear to spread organically and randomly across the space, distribute lighting evenly to the seating areas in the bakery. The sinuous geometry of the lights were designed as a counterpoint to the horizontal layering of the felt and wood strips which constitute the interior surfaces of the walls and ceiling. The floor to ceiling glass of the storefront is intended to reflect the lights at night, extending the perceptual depth of the space.

This design/build project explores a new architectural surface made from an excessive repetition and assembly of common, banal and cheap materials. More akin to a gallery installation, the interior surface and the chandelier were built and installed by the architects.

Project: Fluff Bakery
Architect: Lewis.Tsurumaki.Lewis
Location: 751 Ninth Avenue, New York City
Client: Chow Down Mgt. Inc.
Dates: Construction June-November 2004, Open November 2004
Cost: $250,000
Size: 800 sq ft
Photographs: Michael Moran
Design Team: Marc Tsurumaki, Paul Lewis, David J. Lewis, Eric Samuels
Fabrication Team: Paul Lewis, Marc Tsurumaki, David J. Lewis, Alan Smart, James Bennett,
Lucas Cascardo, Alex Terzich, Hilary Zaic, Matthew Roman, Maya Galbis,
Ana Ivascu, Michael Tyre
Contractor: Real Time Construction
Structural Engineers: Robert Silman Associates

Publications/Texts in Print:

Building Address:

Significant Dates:

Supporting Staff/ Designers:

Tags:


Viewers should treat all images as copyrighted and refer to each image's links for copyright information.